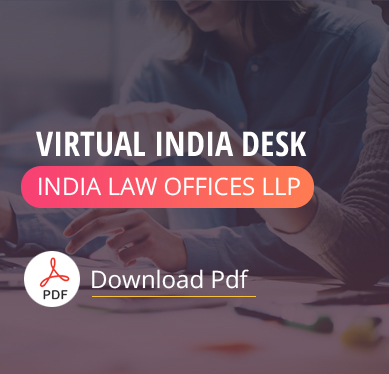 Economic liberalization, buoyancy and an ability to deal effectively with any external challenges and proactive approach of Indian government has made India a large, attractive and investor friendly market.

Representing Indian companies investing abroad and global clients tapping the Indian market

The Virtual India Desk is an idea & initiative by ILO to collaborate with our partners worldwide for their clients' interests in India. Our dedicated India Desk team of specialized corporate, tax & commercial lawyers is available as an in-house team to help pitch India related work to existing or new clients.
We would provide the utmost support to your clients during their launch in Indian market, whether this involves setting up a subsidiary or entering into strategic alliance and investments. As a full-service law firm, we are your contact for all legal matters related to India.

Help you in meeting your clients' needs

We help foreign partners set up an India Desk at their firm and our Virtual India Desk team provides complete support to their chosen representative with the sole objective of helping their existing clients explore opportunities of doing business in India as well as win new clients jointly with our firm. This is a new approach of our firm to increase our India looking partners worldwide at no fees or cost to the foreign law firms that partner with us.
Although Indian legislation does not currently allow foreign firms to have offices in India or to advise on Indian law, our Specialized India Desk team, carefully selected for each practice area, guarantees that your clients always receive services of the highest quality.



Regular Indian Law Updates
Our team will provide periodic updates on Indian investment laws and opportunities which you can share with your client network (if suitable) under your own branding.
Virtual Meeting
If required our attorney would participate along with your team as your India partner in Video / Audio calls with your clients on Indian Law & investment matters.
Client Pitch & Queries
We will answer any queries on India investment & Indian Law raised by your team or clients within 24 working hours. Support your firm in pitching to new clients for legal work related to India.

Knowledge of the local market and business environment is pivotal for Success

Benefit from a Virtual India desk that has extensive experience advising domestic and foreign businesses and corporations on their investments in India.
Zero cost for adding India as a geography
Stay updated with latest developments in Indian economy that could affect your clients & could be shared with them to improve your branding and quality perception.
Get answer to queries raised by clients & prospects in real time.
Opportunity for your clients to tap the fastest growing Indian market
Comprehensive Legal & Support Services from a highly rated & multiple awards winning law firm that provide assistance in 69+ cities across India.
Dedicated team of lawyers to help you win new clients for India related matter
No exclusivity obligation - We operate on best friends basis.

If you need any form of support or are interested to set up an India Desk, please feel free to drop us an email vid@indialawoffices.com or give us a call and we would be happy to engage in discussions with you.1