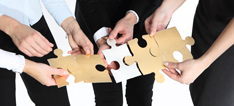 India Law Offices LLP prides in its highly experienced team of specialist corporate and commercial lawyers who advice on wide range of company and commercial issues that are likely to arise in business at one time or another. We have represented a broad range of commercial and corporate clients across various sectors including automotive, property developers (real estate), health care sector, IT and web based businesses. Our attorneys have legal skills and expertise to able to give advice and services to companies throughout the life of business: from initial startup through the development of business to its eventual sale.
We also have wealth of experience in dealing with foreign entities which means we are well versed in dealing with multi-jurisdictional transactions. Buying and selling of a company is one of the most complex transactions that one has to face. At the same time, managing day-to-day running of business also requires conducting of sale and purchase negotiations. These transactions also involve considerable volume of documentation. ILO understands that how stressful and time consuming all this can be for business owners. We have the have legal expertise to guide them through this process as smoothly as possible to remove some of the burden from their shoulders and also give them advance warning of any legal issue or problem that may arise so that they can be well prepared beforehand.
Contracts creating legal relations are integral part of all businesses. Sometimes they can be informal and arise out of a conversation or simple exchange of letters. If a contract is important for the business, it is always better to ensure that it is properly drafted and take advice on what ought to appear in it. While drafting the documents, our team minutely analyzes the requirements and scope of the agreement and lists out all the challenges that might occur in the way of execution of the said document. Thereafter, after detailed discussion and understanding, we prepare a customized agreement that meets the particular requirement of the client in the given situation. Our attorneys regularly advice corporates on following matters:
| | |
| --- | --- |
| S. No. | Services |
| 1 | Mergers and acquisitions |
| 2. | Venture capital and fundraising |
| 3. | Equity capital markets |
| 4. | Private equity and management buy-outs |
| 5. | International and cross-border transactions |
| 6. | Joint ventures |
| 7. | Reorganizations and restructurings |
| 8. | LLPs and partnerships |
| 9. | Corporate governance and advisory |
| 10. | Company secretarial services |
We would be happy to assist you!